Ponderosa Lodge History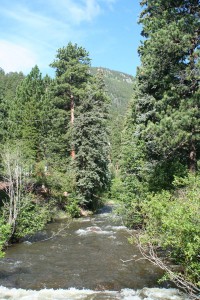 Built in the '50s, the lodge has changed significantly in its now more than 50 year history. Over this period, there have been three long term owners: Agnes Lucas from '60 to '70, Chris and Toby Farrel from '81 to '91, and Jim Tawney from '91 to the present. Agnes brought two private cabins into the property and established its reputation as the cleanest property in Estes Park. Chris and Toby were owners when the lodge was destroyed by the '82 Lawn Lake flood and responsible for building the two main buildings. Since '91, Jim carried out a major redecorating in the larger building for the '93 season and the smaller building for the '94 season. He also replaced one of the older cabins with a two-story cedar log cabin in '95, (the Riverside cabin) then the most deluxe cabin in Estes Park.
Beginning in January 2006, the two main buildings have undergone a major remodeling. So, "everything old is new again". The objective was to create a fresh approach, an ambiance that is consistent with the mountain setting. When completed, all of the "old" that remains is the shower/tub combinations and the fireplaces. Drywall has replaced dark wood grained laminate. There are new light fixtures, new sofas, new carpet and drapes, extensive use of tile and so on.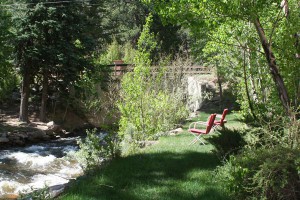 To add to the ambiance, we turned to Cheryl Pennington, a retired school teacher and coach, who began a new career in photography and artistic design. She has brought back the art of hand colored photography. Cheryl has provided all the artwork for the remodel. Some consists of photos taken on the lodge property, to bring the outdoors inside. In addition each room contains at least one of her hand colored prints. Some feature wildlife and some are scenes in the region. Through special permission from the estate of a famous turn of the century photographer, she has produced hand colored versions of prints taken early in the history of Estes Park.