Ponderosa Lodge Amenities
Location and solitude. We're really tucked away from the rest of the world.
· On Fall River
· Hot Tub open 24/7
· Kitchenettes
· Grills
· Wildlife Viewing
· Environmentally Friendly
*     Playground with deluxe "castle" playground equipment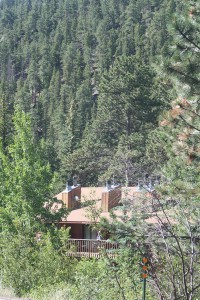 Can you find us in the pines to the left?
A view no matter where you look!
A mountain stream
A mountain stream stocked with trout for guest's catch and release fishing.
A wide range of unit choices, from small rooms for 2 to cabins that sleep 6.
Probably the broadest range of prices and unit types.
The cleanest place in town
An earlier owner (Agnes Lucas, '60 to '70) established the Ponderosa's reputation as the cleanest place in town. The Farrels carried on that tradition and passed it to Jim and his crew. He's been fortunate to have managers who understand and respect the cleanliness ethic.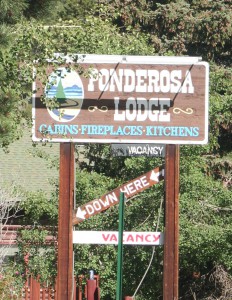 With the recently completed remodel, rooms that are more like home than home itself.
A small lending library with kids books, as well as books on hiking, wildlife, birds, and histories of the region. We also have a small "take one, leave one" stash of books. Finish the "beach read" book you brought with you, just leave it behind and choose one from our collection of "left behinds".
Committed Recyclers
You'll find instructions for separating things in your rooms. You'll also see Jim head to the recycling center here in town for some things or to Boulder's major recycling center to deposit others.
Environmentally friendly
We attempt to always purchase the most environmentally friendly cleaning supplies. To save water (a priority in an area which is often quite dry), we ask that you place towels on the shower rod so that they may be reused. If they need to be replaced, just put them on the floor by the tub. You will find a card in the bathroom, requesting you to do so.